Preparing Your Vehicle For Winter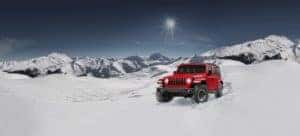 The winter season tends to hit the Sioux City area hard. Snow comes in, roads get slick and your car faces a lot of potential issues. The good news is, there are ways you can prepare!
First: Make sure you check your tire tread and wear. The tread on your tires is crucial to make sure you are getting around safely because the tread gives the tire the ability to grip the road around every corner. 
Second: Make sure to stay up to date on regular maintenance. Oil changes, fluid levels and tire pressure will only help to prevent any car troubles that may come your way during the winter months. 
Third: Check your battery. Battery capacity decreases in reduced temperatures so it is important to have your battery's fluids and cables checked by a professional.
Here at Woodhouse Chrysler Jeep Dodge Ram we can help you with all of these needs and precautions. Interested in learning more about servicing your vehicle for winter? Contact us today!